STM32F407VET6 - STM32 F4VE V2.0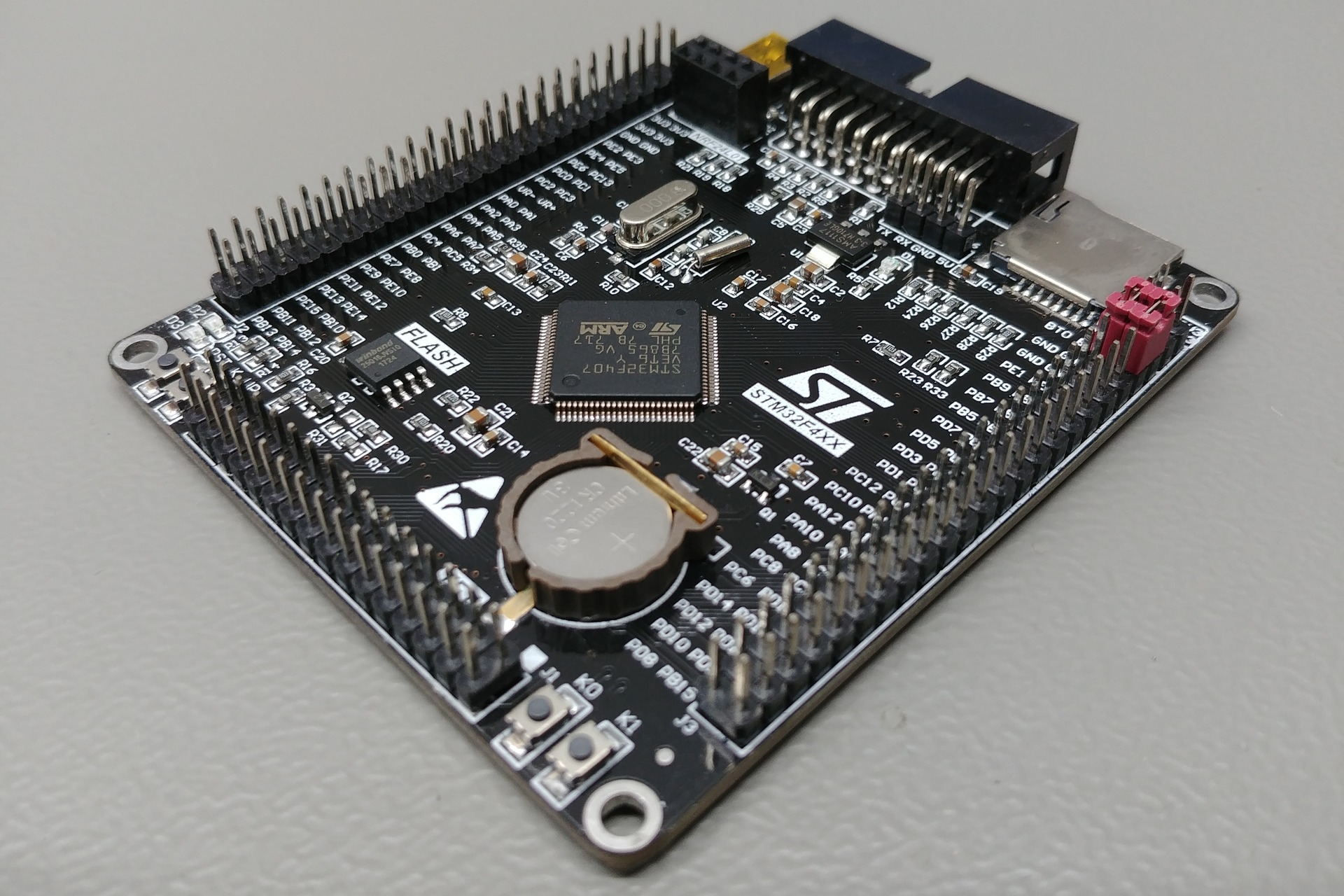 Overview
Board
Name
STM32 F4VE V2.0
Brand
Unknown
Origin
China
Microcontroller
Part
STM32F407VET6
Package
LQFP100
Core
Cortex-M4
FLASH
512KB
SRAM
128KB
64KB (CCM)
4KB (Backup)
Max. Clock Speed
168MHz
Crystals
HSE (High Speed External)
8MHz
LSE (Low Speed External)
32.768kHz
Power
Sources
Any +3.3V pin (+3.3V)
Any +5V pin (+5V)
USB connector (+5V)
Regulator manufacturer
Advanced Monolithic Systems Inc.
Regulator part number
AMS1117
Regulator package
SOT223
Output
+3.3V @ 1000mA
Battery holder
Yes
Connectivity
Headers
2x 2x24 male dupont (2.54mm)
Specific
Serial (1x4 male dupont (2.54mm))
NRF24L01 (2x4 female dupont (2.54mm))
Display (2x16 male dupont (2.54mm))
SD card
Debug
JTAG (20-pin IDC)
USB
Mini
I/O
LEDs
Power LED (D1, +3.3V)
User LED (D2, PA6, sink)
User LED (D3, PA7, sink)
Buttons, switches and jumpers
Reset button (RST, NRST, active low)
User button (WK_UP, PA0, active high)
2-way jumper (BT0, BOOT0)
2-way jumper (BT1, BOOT1)
User button (K0, PE4, active low)
User button (K1, PE3, active low)
Other devices
Winbond W25Q16JV (16Mb FLASH)
PCB
Colour
Black
Size
85mm x 62mm
Mounting
4x mounting hole (M3)
Remarks

Warning: The +5V pins on this board are directly connected to the +5V pin of the USB connector. There is no protection in place. Do not power this board through USB and an external power supply at the same time.
Resources
Pictures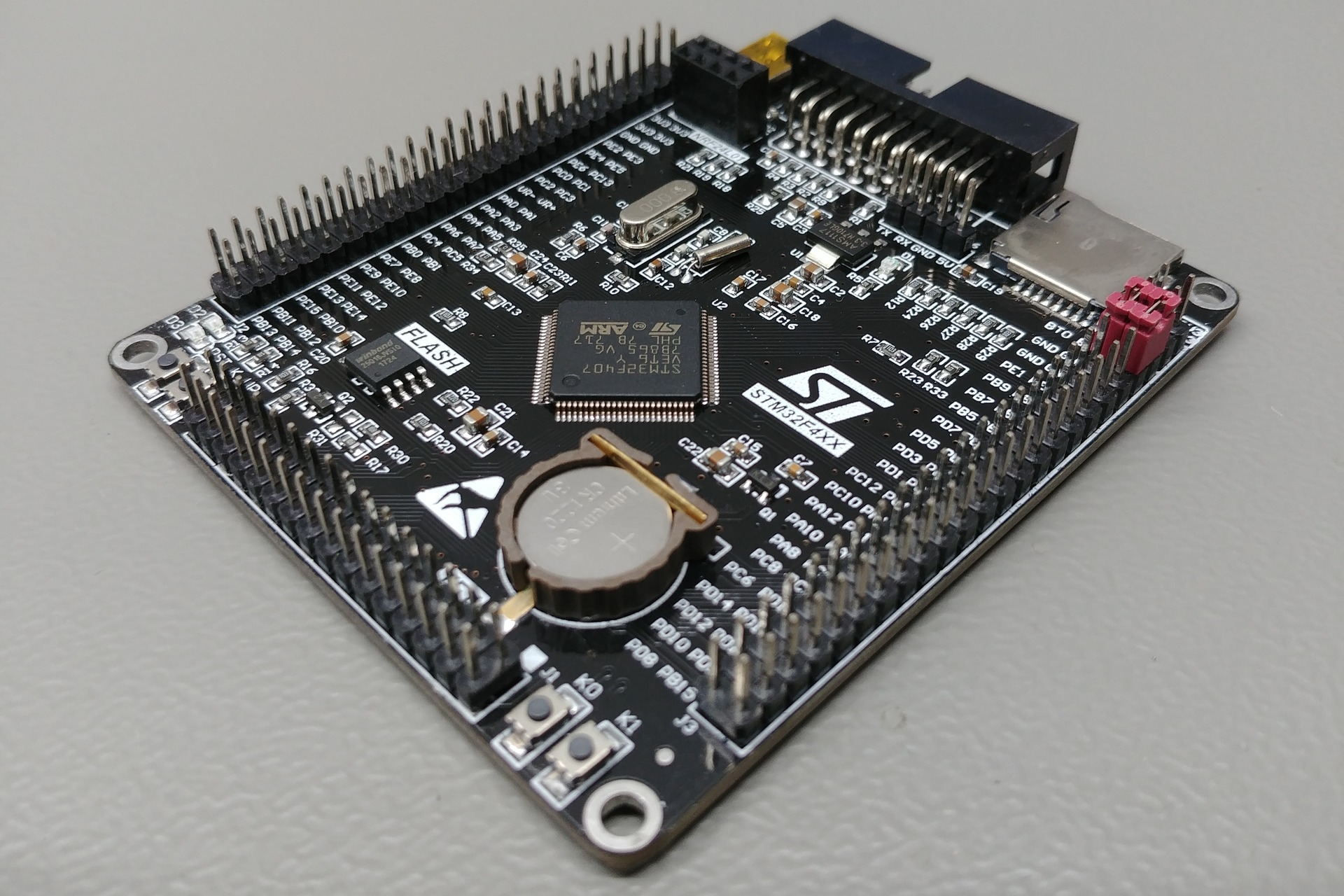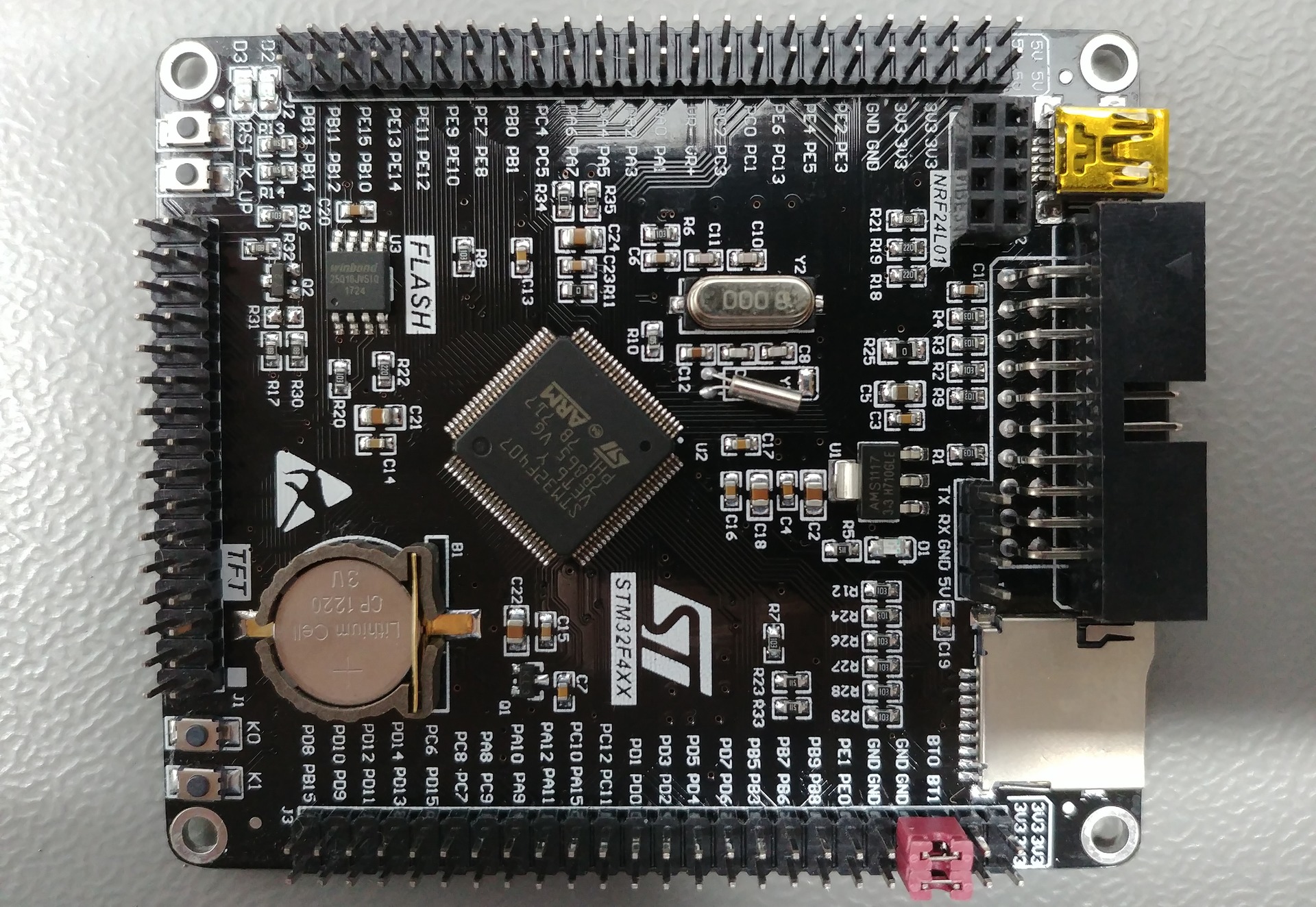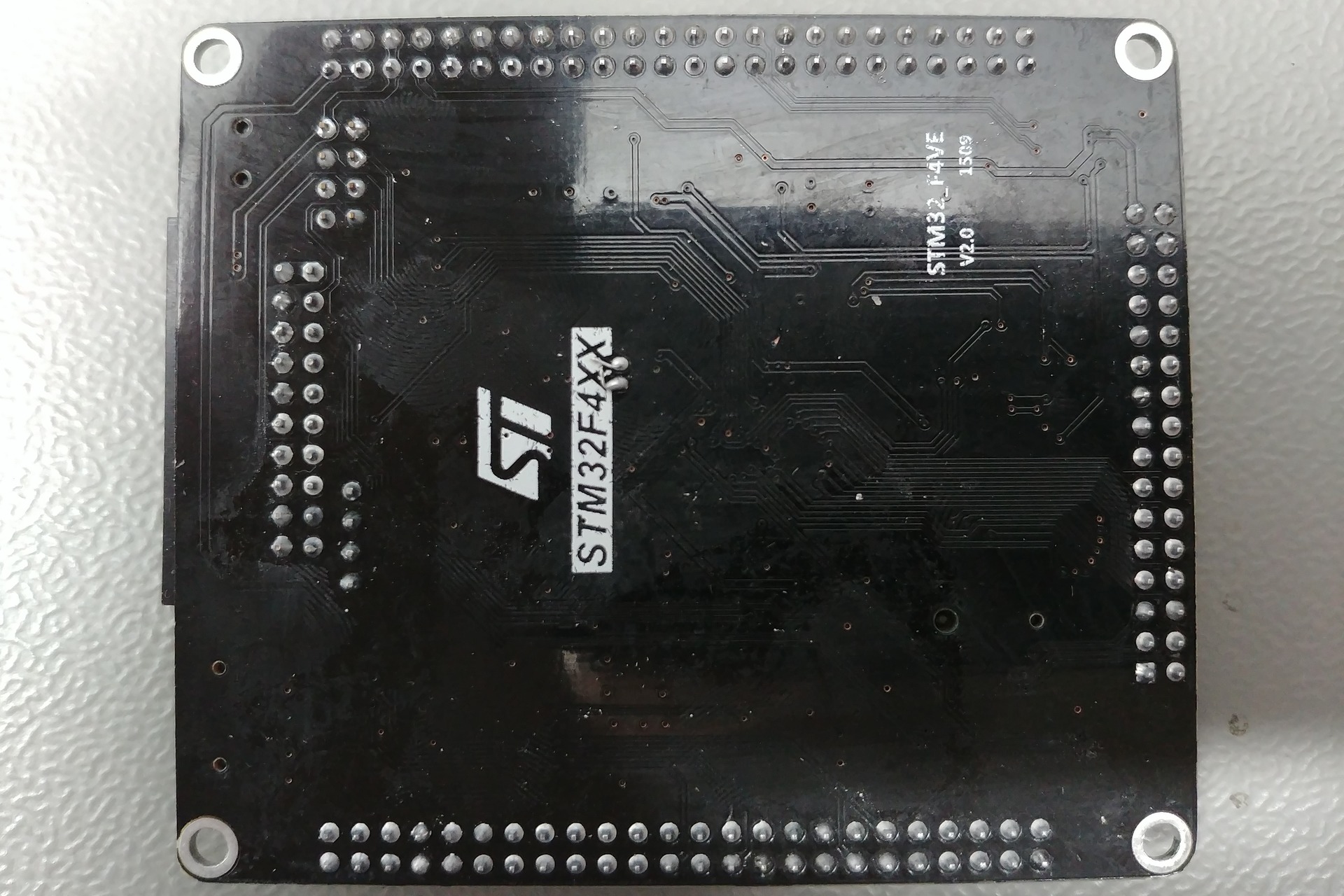 Header 1
| Pin | Connected to |
| --- | --- |
| PB13 | PB13 |
| PB14 | PB14 |
| PB11 | PB11 |
| PB12 | PB12 |
| PE15 | PE15 |
| PB10 | PB10 |
| PE13 | PE13 |
| PE14 | PE14 |
| PE11 | PE11 |
| PE12 | PE12 |
| PE9 | PE9 |
| PE10 | PE10 |
| PE7 | PE7 |
| PE8 | PE8 |
| PB0 | PB0 |
| PB1 | PB1 |
| PC4 | PC4 |
| PC5 | PC5 |
| PA6 | PA6 |
| PA7 | PA7 |
| PA4 | PA4 |
| PA5 | PA5 |
| PA2 | PA2 |
| PA3 | PA3 |
| PA0 | PA0 |
| PA1 | PA1 |
| VR- | VREF- |
| VR+ | VREF+ |
| PC2 | PC2 |
| PC3 | PC3 |
| PC0 | PC0 |
| PC1 | PC1 |
| PE6 | PE6 |
| PC13 | PC13 |
| PE4 | PE4 |
| PE5 | PE5 |
| PE2 | PE2 |
| PE3 | PE3 |
| GND | Ground plane |
| GND | Ground plane |
| 3V3 | +3.3V rail |
| 3V3 | +3.3V rail |
| 3V3 | +3.3V rail |
| 3V3 | +3.3V rail |
| 5V | +5V rail |
| 5V | +5V rail |
| 5V | +5V rail |
| 5V | +5V rail |
Header 2
| Pin | Connected to |
| --- | --- |
| 3V3 | +3.3V rail |
| 3V3 | +3.3V rail |
| 3V3 | +3.3V rail |
| 3V3 | +3.3V rail |
| BT1 | BOOT1 |
| BT0 | BOOT0 |
| GND | Ground plane |
| GND | Ground plane |
| GND | Ground plane |
| GND | Ground plane |
| PE0 | PE0 |
| PE1 | PE1 |
| PB8 | PB8 |
| PB9 | PB9 |
| PB6 | PB6 |
| PB7 | PB7 |
| PB3 | PB3 |
| PB5 | PB5 |
| PD6 | PD6 |
| PD7 | PD7 |
| PD4 | PD4 |
| PD5 | PD5 |
| PD2 | PD2 |
| PD3 | PD3 |
| PD0 | PD0 |
| PD1 | PD1 |
| PC11 | PC11 |
| PC12 | PC12 |
| PA15 | PA15 |
| PC10 | PC10 |
| PA11 | PA11 |
| PA12 | PA12 |
| PA9 | PA9 |
| PA10 | PA10 |
| PC9 | PC9 |
| PA8 | PA8 |
| PC7 | PC7 |
| PC8 | PC8 |
| PD15 | PD15 |
| PC6 | PC6 |
| PD13 | PD13 |
| PD14 | PD14 |
| PD11 | PD11 |
| PD12 | PD12 |
| PD9 | PD9 |
| PD10 | PD10 |
| PB15 | PB15 |
| PD8 | PD8 |
USB
| Pin | Connected to |
| --- | --- |
| VCC | +5V rail |
| D- | PA11 |
| D+ | PA12 |
| ID | N.C. |
| GND | Ground plane |
JTAG
| Pin | Connected to | JTAG | SWD |
| --- | --- | --- | --- |
| 1 | +3.3V rail | VCC | - |
| 2 | +3.3V rail | VCC | - |
| 3 | PB4 | TRST | - |
| 4 | Ground plane | GND | - |
| 5 | PA15 | TDI | - |
| 6 | Ground plane | GND | - |
| 7 | PA13 | TMS | SWDIO |
| 8 | Ground plane | GND | - |
| 9 | PA14 | TCLK | SWCLK |
| 10 | Ground plane | GND | - |
| 11 | N.C. | RTCK | - |
| 12 | Ground plane | GND | - |
| 13 | PB3 | TDO | SWO |
| 14 | Ground plane | GND | - |
| 15 | NRST | RESET | - |
| 16 | Ground plane | GND | - |
| 17 | N.C. | N.C. | - |
| 18 | Ground plane | GND | - |
| 19 | N.C. | N.C. | - |
| 20 | Ground plane | GND | - |
SD-card connector
| Pin | Connected to |
| --- | --- |
| RSV | N.C. |
| CS | PC11 |
| DI | PD2 |
| VCC | +3.3V rail |
| SCLK | PC12 |
| GND | Ground plane |
| DO | PC8 |
| RSV | N.C. |
| CD | N.C. |
| BODY | Ground plane |
Serial
| Pin | Connected to |
| --- | --- |
| Tx | PA9 |
| Rx | PA10 |
| GND | Ground plane |
| 5V | +5V rail |
NRF2401
| Pin | Connected to |
| --- | --- |
| GND | Ground plane |
| VCC | +3.3V rail |
| CE | PB6 |
| CSN | PB7 |
| SCK | PB3 |
| MOSI | PB5 |
| MISO | PB4 |
| IRQ | PB8 |
TFT
| Pin | Connected to |
| --- | --- |
| NRST | NRST |
| GND | Ground plane |
| PD9 | PD9 |
| PD10 | PD10 |
| PE15 | PE15 |
| PD8 | PD8 |
| PE13 | PE13 |
| PE14 | PE14 |
| PE11 | PE11 |
| PE12 | PE12 |
| PE9 | PE9 |
| PE10 | PE10 |
| PE7 | PE7 |
| PE8 | PE8 |
| PD0 | PD0 |
| PD1 | PD1 |
| PD14 | PD14 |
| PD15 | PD15 |
| PD5 | PD5 |
| PD4 | PD4 |
| PD7 | PD7 |
| PD13 | PD13 |
| PB12 | PB12 |
| PB13 | PB13 |
| PB14 | PB14 |
| PB15 | PB15 |
| VBAT | VBAT |
| PC4 | PC4 |
| GND | Ground plane |
| NC | N.C. |
| GND | Ground plane |
| 3.3V | +3.3V rail |
IC - Winbond W25Q16JV (16Mb FLASH)
| Pin | Connected to |
| --- | --- |
| /CS | +3.3V rail via 10kΩ resistor |
| DO | PB4 |
| IO2 | +3.3V rail |
| GND | Ground plane |
| DI | PB5 |
| CLK | PB3 |
| IO3 | +3.3V rail |
| VCC | +3.3V rail |